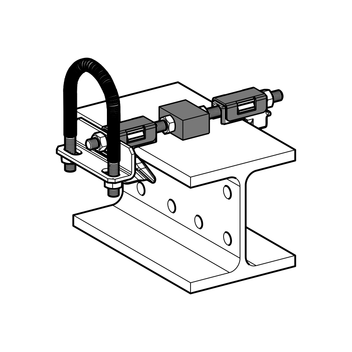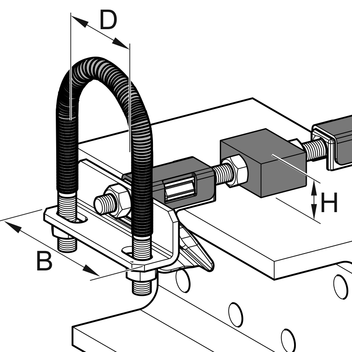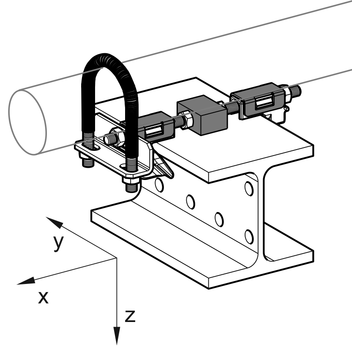 Gruppe:
A770
---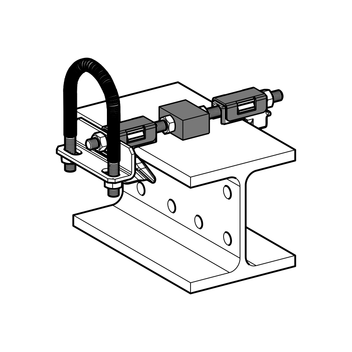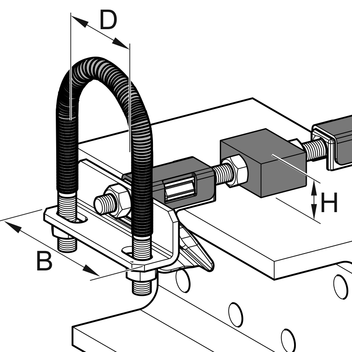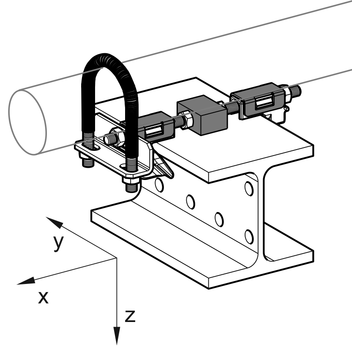 Aplicação
Fixed Point for attachment of steel or stainless steel pipes of DN 15 up to DN 50 on steel beams with width of 80 up to 300 mm and max. flange thickness of 20 mm.
Configuração
Preassembled Fixed Point including contact corrosion protection by means of a U-bolt sheath and PA slide bearing blocks. U-bolt with 2 hex nuts to secure position.

Guided Support set contains
2 clamping hooks with slide bearers
1 slide bar
1 connecting rod M10
1 U-Bolt fixing plate
4 nuts M10
Instalação
Position the preassembled clamping hooks onto the beam flange and tighten the nuts (to 10 Nm). For beam width < 100mm both nuts of the PA bearing block in the middle have to be removed. Fasten U-bolt to U-Bolt fixing plate (to 30 Nm). The pipe is pressed against the PA bearing blocks by the clamping action of the U-bolt thus ensuring a fixed position of the pipe.
Dados Técnicos
DN

D
[mm]

H
[mm]

B
[mm]

15
22
20
72

20
27
20
72

25
34
20
72

32
42
20
97

40
48
20
97

50
60
20
97
Type

for flange width
[mm]

80/120
80 - 120

140/160
121 - 160

180/220
161 - 220

240/260
221 - 260

280/300
261 - 300
| | |
| --- | --- |
| Material: | |
| U-bolt | Steel, HCP |
| U-bolt sheath: | Polyamide 6.0, free of halogens |
| Sheet metal parts: | Steel, HCP |
| Rod, nuts: | Steel, HCP |
| PA blocks: | Polyamide 6.0, 30 % glass fibre reinforced, black |
| Temperature range: | -20 to +130° C (at the PA blocks and shrinking tube) |
* in stock